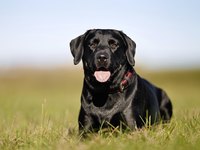 While the Labrador retriever has long dominated the top of the American Kennel Club's list for annual breed registrations, most Labs don't perform the job they were originally bred to do: hunting. Training your Lab to hunt is a gradual process of building a partnership with your dog. After the age of 6 months, your Lab is eligible to receive a working certificate, if he is able to demonstrate a natural retrieving instinct, from the Labrador Retriever Club of America.
Basic Obedience
Before you start hunt training, your Lab requires basic obedience skills. Take him to obedience classes so he reliably learns the sit, stay, come, heel and down commands. "Reliably" means he isn't so distracted by outside influences, such as the neighbor's kids playing next door, that he fails to heed your commands. Good hunting dogs listen to and obey their owners. That's true even if your hunting-bred pooch is primarily a family pet.
Introduction to Hunting
During your Lab's first year, expose him to what he'll encounter in the hunt field, but don't actually hunt with him. Introductions don't all have to take place in the hunt field. He should learn to socialize with other canines, travel comfortably in a crate, become familiar with gunfire and ride on a boat. Don't overwhelm him with too many experiences at one time. At some point, expose him to game birds. "Gun Dog" magazine recommends starting off your dog by allowing him to hold a cold, dead pigeon.
Field and Stream
Once your dog reliably returns to you on command, start exploring field and stream with him off-leash. Take him into fields, letting him run around and experience hunting terrain and discover game birds. Labradors usually take to water like the ducks they're bred to retrieve, so let yours learn to cross streams and play in marshland.
Teaching Retrieving
While retrieving comes naturally to the Lab, that doesn't mean your dog won't require some tuning up. Purchase a dummy for your Lab to retrieve at a sporting goods store, or use a knotted sock. Hold your Lab back while teasing him with the object. Then toss it a few feet and release your dog. As he improves at retrieving, increase the throwing distance.
Working Certificate
Your local chapter of the LRCA can give you information on training opportunities and field trials. To earn a working certificate, your Lab must retrieve a shot bird from 50 yards away, on land, in light cover, according to LRCA specification. He must also retrieve two ducks from water in immediate succession, proving that he will re-enter water after the initial retrieval. He must also prove not to be gun-shy. Steadiness isn't necessary at this stage, so you can hold your dog until the retrieve, and he'll still get his certificate.