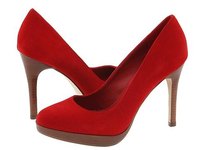 Red shoes are a great confidence builder and lend snap to any outfit while remaining entirely professional. However, wearing red shoes with the wrong clothes can make you appear too loud, flashy or overbearing even before you open your mouth.
Keep the rest of your clothing simple. Each article of clothing should be no more than one color, and these colors should generally be dark greys, black or white. If you are wearing the shoes to work, then keep skirts knee length or longer and all clothing sharply tailored. If you are wearing the shoes out then it is okay to wear jeans and slightly more relaxed types of clothes.

Wear large, plain jewelry. If you wish to wear colored jewelry, wear red stones or beads that do not clash with the red in your shoes. Otherwise, stick to chunky, metallic jewelry in gold or silver. Because your clothes are relatively simple, you can wear a necklace, rings, earrings and bracelets if you wish without overwhelming your outfit.
Remember your stockings. Even if you are wearing pants, red shoes look silly with socks. Put on a nice pair of run-free stockings. If you are wearing a skirt this will also prevent your shoes from making your legs look pale.
Show off your shoes. If you are going to wear them, flaunt them. Make sure that the toes peep out from under pants or wear the shoes with a skirt to make sure everyone gets a glimpse.