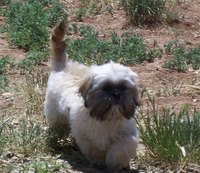 A shih tzu can be very temperamental. The origins of the shih tzu has been found in text and artwork dated back to the seventh century in China. The name "shih tzu" means "Lion Dog" in Chinese and they really do growl and sound like lions. My dog, Toby, is a Shih Tzu that is arrogant and out of control and here are some tips that have helped me control him.
Things You'll Need
Pet owner's manual
Collar
Start training your dog while he is still a pup. Be sure you let your pup know who the boss is from the start, and never show the dog that you fear him. Bribing your dog is never helpful.

When your shih tzu disobeys, immediately punish him before he forgets why he is being punished. If your dog is stubborn, you can confine him to his cage. By the tone of your voice, a shih tzu knows he's done wrong. In controlling your shih tzu, be positive and consistent and never hit your dog.
When walking your dog, be sure to pull or tug him to your right leg. Do not let your pup to run in front of you or ahead of you. You want to show your dog that you are the leader and pretty soon they will know the routine.

The most important thing to remember is to love your pup and don't take things to the extreme.