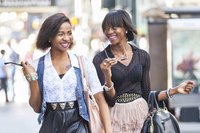 Outlets and factory stores usually are clustered in purpose-built suburban malls, but a few brand factory outlets are scattered around New York City's five boroughs. Off-retail chains are flourishing, although some of the big names long seen in New York City, such as Filene's Basement, Syms, Daffy's and Loehmann's, have gone out of business.
Century 21 Department Store
Century 21 carries discounted fashion, shoes and accessories for men, women and children, plus soft furnishings for the home. Manhattan's flagship store is downtown near Wall Street and the other is uptown, directly across the street from Lincoln Center. As of 2015, two more C21 stores are in Rego Park, Queens, and Bay Ridge, Brooklyn. Century 21 carries top-name American and European designer brands discounted up to 65 percent, with new arrivals regularly added.
Nordstrom Rack and Neiman Marcus Last Call
The four Nordstrom Rack locations in New York City are in Manhattan's Union Square; Skyview Center in Flushing, Queens; Fulton Street in Brooklyn; and the Gateway Center in Brooklyn. The Rack stores have a big selection of trending fashion, shoes and accessories marked down 30 to 70 percent, sourced from Nordstrom stores and Nordstrom.com. Frequent shoppers earn rewards in the loyalty program that turns points into dollars at Nordstrom, Nordstrom Rack and at flash site HauteLook. Located off the Belt Parkway, Gateway Center is a suburban-style mall with free parking, and is home to Burlington Coat Factory, Marshalls and T.J. Maxx. Neiman Marcus Last Call has one of its few city locations in Brooklyn Heights.
T.J. Maxx and Marshalls
T.J. Maxx operates off-price retail stores in 15 locations throughout the five boroughs, including one on Staten Island. T.J. Maxx stock is curated from designer collections that have overproduced, closeouts or items that must be shifted when other stores overbuy. Merchandise moves quickly, especially exclusive brands in The Runway department, as many New Yorkers are keen fashionistas who can spot a bargain. Similarly, new arrivals in fashion, shoes, accessories, costume jewelry and luggage are displayed several times a week at Marshalls, with 15 locations in Manhattan, Brooklyn, Queens and the Bronx.
Shoes and Bags
With an accent on the most stylish European brands, Gabay's is a third-generation family business off the beaten track on the Lower East Side -- but it's hit or miss. Be prepared to get dusty among piled high shoe boxes. Alternatively, spacious DSW stores display name-brand bags, boots, sneakers and shoes for men and women. Shoe boxes are clearly labeled to encourage trying on without requiring an sales clerk, including a sale section that is worth a look. Nine DSW locations include four in Manhattan and are in all boroughs including Staten Island. For European footwear and small leather goods in exotic skins, New Yorkers head for Michele Olivieri, open since 1985 on the Lower East Side.
Designer Brand Factory Outlets
For single-brand outlet stores, many shoppers are familiar with Woodbury Common Premium Outlets, one of the nation's busiest designer outlet malls, located 50 miles north of New York City. Tanger Outlets' nearest mall is 35 miles east of Manhattan in Deer Park, Long Island. A few popular brands have outlets within the five boroughs. Ann Taylor Factory Store is in Forest Hills, Queens. Menswear retailer JoS. A. Bank Factory Stores are in Lower Manhattan and Midtown East. British apparel designer Paul Smith collects unsold items from other U.S. stores for its Brooklyn sale shop, and Gap Factory has four Brooklyn stores, two in the Bronx and one in Harlem. Nine West Outlet has a store each in Harlem, Queens and Brooklyn plus three in the Bronx.