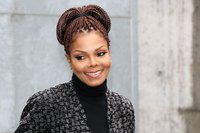 After years spent yo-yo dieting, Janet Jackson still never felt happy with her weight or her body, she told ABC News in 2011. However, in 2012, she became a spokesperson for Nutrisystem, saying that she has not only lost all the pounds she wanted to drop by following the program, but is finally content with how she looks. The diet that worked for Janet Jackson may not necessarily be effective or healthy for you. Talk to your doctor before starting.
Basic Guidelines
When you join the Nutrisystem program, you'll decide what you want to eat for each meal of the day, including snacks and desserts. These meals will be delivered to your home, preportioned and ready to eat after heating. You'll need to supplement each with produce, lean protein and low- or nonfat dairy products. The company provides specific information on what and how much of each to add in a pamphlet that comes with your meals. Although the Nutrisystem diet doesn't require exercise, you'll need to work it in regularly if want to replicate Jackson's version of the program.
Sample Menu
A typical day on a Nutrisystem diet similar to Jackson's might begin with a breakfast of Nutrisystem French toast paired with a cup of low-fat yogurt and 1 cup of fresh sliced fruit. Lunch might be a Nutrisystem chicken quesadilla topped with grated Parmesan cheese and served with a salad of mixed greens, tomato, cucumber and fat-free dressing, followed by a Nutrisystem buffalo chicken wrap, green beans, a cup of raw carrots, an orange and some almonds at dinnertime. A midmorning snack could be grapes and a hard-boiled egg, while a Nutrisystem ice cream sandwich or fudge sundae could be dessert.
Possible Benefits
While you may not experience as dramatic a weight loss as Jackson when following Nutrisystem, a study published in "Postgraduate Medicine" in 2009 and funded by Nutrisystem found that diabetics on the program experienced significant weight loss after three months. The plan is easy to follow, requires little preparation time for meals and offers built-in portion control. Vegetarians and the elderly have specialized versions of the program. If you want to eat more home-cooked meals, you'll have free access to aid from a Nutrisystem counselor and can use recipes from a Nutrisystem cookbook. Including regular exercise, as Jackson did, will further increase the likelihood you'll lose weight and will enhance your overall health.
Potential Disadvantages
Nutrisystem is expensive and may not be a viable option for people who don't have a large income like Jackson's. Eating out will be difficult -- if not impossible -- as will sticking to the program if you have family members who are consuming regular meals. Epicurious.com writers who sampled the Nutrisystem meals reported that many had a strong, unpleasant flavor and a tough texture. Although you'll be supplementing the premade meals with fresh produce, meat and dairy, you'll still be eating plenty of additives, preservatives, artificial flavorings and trans fats. In addition, many dieters will need more detailed exercise recommendations in order to duplicate Jackson's version of the plan and her success. If you have an allergy to soy or peanuts, be aware that some of the foods contain those ingredients. This plan isn't appropriate for kids, teens or pregnant women, who may need more calories.