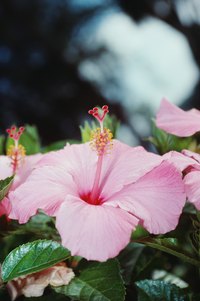 The hibiscus has been extolled for various uses, including as dandruff treatment, food coloring and herbal teas. To make a simple shampoo that will leave your hair extremely soft, you can use both hibiscus leaves and flowers.
Things You'll Need
8 to 10 hibiscus leaves
1 or 2 hibiscus flowers
Water
Strainer
Flour
Essential oil (optional)
Put the leaves, flowers and 1 cup of water in a bowl.
Mash the leaves and flowers.
Add about a teaspoon of flour and continue to mix. If the consistency is fairly thick, add a little more water. It should be fairly runny and sticky.
Put the mixture through the strainer.
Add a drop or two of your favorite essential oil, if you like.
Shampoo with the mixture and rinse thoroughly. Let your hair air dry.