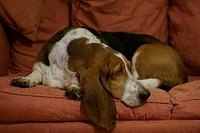 Basset Hounds are wonderful pets, but they have a nose for trouble. If you own a Basset Hound, how do you keep him or her entertained, so they stay out of the trash or keep from wandering off, following their nose? Basset Hounds are social, and most love people and other dogs. They can be extremely loyal to their owners, as long as they are not on the trail of a delicious scent. Read on to see how to entertain a Basset Hound.
Things You'll Need
Leash
Collar
Old socks
Squeaky toys
Rawhide
Dental bones
Kong toy
Dog treats
Peanut butter
Walk your Basset Hound on a long leash. Since Basset Hounds have short legs, they like to walk at a slow or moderate pace. They also like plenty of time to sniff their surroundings. You could go on a 1-mile walk with your Basset Hound and spend almost an hour in the process. They love to smell and check out the scents along their path. Let your Basset Hound explore. This is entertainment for him.
Use a Kong toy and a teaspoon of peanut butter to entertain your Basset Hound for an afternoon. A Kong toy has a hollow middle where you can put treats for your dog. The Basset Hound can smell the peanut butter and will work to get it out of the toy. Use just a little low fat, smooth peanut butter. Put some on the edge, so he or she gets a small reward and works to get the rest that's in the middle.
Play tug-of-war with an old sock or a dog toy. Basset Hounds love to play. An old sock works just as well as an expensive dog toy, so choose what you prefer and feel is best for your dog.
Entertain your Basset Hound with a squeaky toy. He or she will chew on it and try to get the squeaky device in the middle. You may go through plenty of these toys, depending on how well your dog can find the squeaker. Watch your dog with these toys to avoid accidents, and make sure it is safe for dogs.
Take your Basset Hound to a dog park if possible. A regular park will also work. Most Basset Hounds love people and other dogs. They love all the smells at a new place. Just watch your Basset Hound's tail wag as you entertain it at one of these locations.