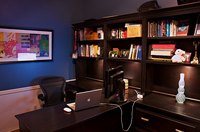 More people than ever are turning their dreams of owning a small business into a reality. It is easier than ever to start a small business in Canada, and the technologies that we enjoy today allow these small businesses to operate on a much larger scale. The internet has removed the days when a small business was dependent upon the local economy, as even a small business now has the ability to reach a global audience, should they choose to do so. If you have what it takes to be your own boss, follow these simple steps to start a small business of your own in Canada.
Things You'll Need
Money to finance your idea
Have a dream. Having a good idea is a great way to start a business, but having a dream is even better. When you start a small business, you have to be prepared to devote a large part of your time and energy to its growth and success. This makes it important for the small business you start to be more than just a good idea; it needs to be something that you dream about spending your life doing and will enjoy working on for all of those long, hard hours.
Have a plan. You should never start a small business without a firm plan. Sure, you can go into it half-cocked, with a good idea and nothing else. It is probably possible to navigate the waters without a map telling you where to go, but you'll be doing yourself a disservice and making your job unnecessarily difficult. Making a business plan for how you will grow and develop your small business will make your job easier and increase your chances of success. Do a search online for free business-plan templates, and then take the time to fill it in with the information about the business you will be starting. It is time well spent, and you'll be glad that you put the extra effort into this step.
Register your company name. Your small business should be registered with your local city government. The process varies depending on how large and complex your corporate structure is. For most small businesses, a simple sole proprietorship or limited partnership is all that is needed, meaning you basically just need to fill out the proper forms and submit them with the required filing fee. Contact your local municipality or chamber of commerce for instructions on where to file, as well as for information about how much the filing fee will be.
Register for PST. The provincial sales tax (PST) is a tax that you are required to collect from your customers, and then pass on to the consumer tax branch of your province. You will be given a PST number when you register for the tax. This number identifies your business when it is time to make the tax payments, and it will also entitle you to purchase goods without paying taxes, so long as you are purchasing the items specifically to resell them in your own business.
Register for GST. The GST is the goods and services tax, and it's paid on the federal level for your business activities. You are not required to register for GST unless your business has revenues of at least $30,000 CDN for any 12 consecutive months. Note that this is $30,000 CDN worth of revenues, not profits. Making that distinction now could save you significant fees and penalties down the road. If your small business is required to register for GST, you will need to register through the Canada Revenue Agency.
Open a bank account for your small business. Any bank in Canada will be more than happy to provide banking services for the small business you start. Check with several branches to see what interest rates they offer on business savings accounts, and what fees they charge for business checking account. Having this information will help you make an informed decision about which bank is best for your small business.