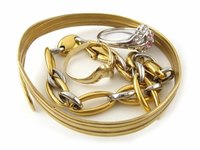 Gold is a very precious metal that is sought after by many. Also, there are times where gold is bought and sold at higher than normal values. Reading this article will teach you how to sell your scrap gold.
Find a buyer. The very first step in selling anything is finding someone who will buy it from you. In selling scrap gold, however, you need to find a jewelry merchant that buys gold. Be careful in searching for your buyer, because some buyers claim to give a a good return for your gold and end up buying your gold for almost half of what it's really worth. The reason you need to watch for these particular buyers is because they use a middle man in order to get your return. It is recommended that you scout your buyers well before selling.
Gather your scrap gold. Get all of your gold together including: broken rings, necklaces, chains, dental gold and anything else that you either don't wear anymore or don't have an immediate use for. Often enough people who are trying to sell their scraps will leave out something they are not wearing because they think they won't get much for it. If you have this doubt, you should take the gold to your local jeweler and usually they will be able to tell you exactly how much it's worth before you sell it (even if they don't buy scraps).
Review the transaction after it's complete. Sometimes people who are selling scraps won't get what their gold is really worth. Before selling it would be wise to have receipts (if applicable) of the jewelry you plan to sell or get the jewelry priced by your local jeweler (especially before shipping it to some far away processing plant). After you have received your check or payment for your gold, look it over with your receipts or professional quote, and if it is not what you expected you should be prompt in dealing with the buyer regarding this matter. Most buyers offer a little more money or some sort of kill payment for customers who can prove that their gold is worth more than the buyer says it is.