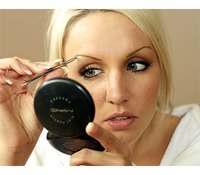 For individuals wanting to remove hair, tweezers provide the perfect tool for completing the job. Tweezing is an effective way to remove unwanted hair and to shape up areas of your body. Tweezing lasts much longer than shaving and these tips will help you perfectly tweeze your hair away.
Things You'll Need
Tweezers
A Magnifying Mirror
A Steady Hand
Anti-Bacterial, Soothing Lotion
First, use an anti-bacterial soothing lotion and wipe the area that you intend to tweeze. Make certain that the area is very clean. Clean the tweezers as well to insure that there is not any bacteria or dirt present.
Next, pull the skin taut in the area that you want to remove the hair. Pulling the skin taut helps to raise the hairs, especially the shorter hairs, making them easier to tweeze. Relax and take your time in order to prevent irritation or swelling.
Then, firmly tug the hair with the tweezers and quickly pull it out. Make certain to only grab one hair at a time in order to prevent any redness or swelling.
Next, continue each step trying to pull the hair straight out of the follicle instead of at an angle which can cause irritation and redness. Tweeze slowly so that you can make a precise pattern or remove exactly the hair that you want to remove.
Finally, wipe the tweezers each time on a clean dry, cloth. This will prevent dirt or bacteria from building up and causing an infection. Also, clean your tweezers before and after you use them to prevent any bacteria or dirt buildup. Thoroughly dry your tweezers before storing them to prevent rusting.