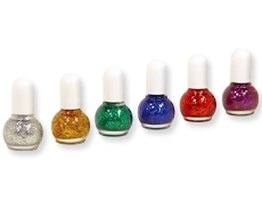 Glittery nail polish is a great way to add sparkle to any outfit. Properly applied, it is entirely professional and a way to add a little subtle glamour to your clothes and attitude. In this article, we will discuss how to paint fingernails with glitter polish.
Things You'll Need
Nail scrub brush

Nail file

Solid color nail polish
Matching color glitter nail polish

Clear nail polish

Orange stick
How to Paint Fingernails With Glitter Polish
Scrub your nails thoroughly. Clean nails hold polish better and have a smooth, professional appearance.

File the tips. You can create a rounded or a squared-off tip depending on your preference. While you are filing, lightly pass the file across the tops of your nails so that they will hold the polish better.

Push back your cuticles. Use the orange stick to push back cuticles and expose as much of the nail as possible.

Apply two coats of the solid color nail polish. This will provide a background for your glitter. These coats should be thin, but even, and you should let them dry completely before moving on to the next step.

Apply one to three coats of glitter polish. These coats should be thin but even. Allow them to dry completely between applications. When your nails sparkle enough to suit you, move on to the next step.
Photo Credit http://www.ruralmissouri.org/Images/RuralMissouri/Nov04/glitterfingers.jpg,http://www.4funparties.com/media/images/ProductImages/WP517.jpg, http://i185.photobucket.com/albums/x182/chubbyvoo/happyanniversarywithflowers.jpg
Promoted By Zergnet