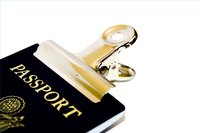 International travel has its share of difficulties. Getting a visa should not be one of them. Even when dealing with the most bureaucratic of governments, obtaining that special stamp in your passport shouldn't be a headache. Here's how it's done.
Call the embassy (or consulate) of your destination country. Ask to speak with the consular department.
Explain to the consular agent the precise nature of your intended visit. If you plan on leaving re-entering your destination country several times, be sure to mention this.
Ask the consular agent what type of visa you will need. Ask what the requirements are.
Follow the consular agent's directions. You will most likely be directed to a page on the embassy's website detailing exactly what needs to be done in order to obtain the necessary visa. This usually entails sending your passport via postal mail to the embassy or consulate (unless you live in a city with an embassy or consulate, in which case you can go there yourself). You will also need to mail the proper forms from the website and a processing fee.
Wait four to eight weeks (if you mailed your passport). This is the typical amount of time necessary for the embassy or consulate to process your request. If you managed to visit the embassy or consulate in person, processing time could be significantly reduced.
Check your passport to make sure that the visa is there, and verify that it is the kind you originally requested. If everything is in order, enjoy your trip!