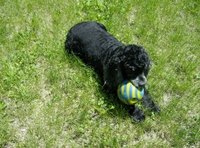 Keeping a dog free from fleas and ticks during the summer can be a challenging job unless you apply a topical treatment to your pet. Fleas and ticks can cause health problems in dogs including; worms, anemia, and chronic skin problems.Applying a quality topical flea and tick preventative to a dog will give a pet owner the peace of mind needed for the summer months. Most quality treatments will keep a pet free from fleas and ticks for up to 3 months.
Things You'll Need
Topical flea and tick treatment
Dog (over the age of 8 weeks)
Gather the supplies necessary for applying the flea and tick treatment.
Sit on the floor or place the dog on a smooth table for application of the treatment. Don't make a big production of this process, it should not be frightening for the pet and should only take about 5 minutes. Act matter of fact about the procedure to keep the dog calm.

Put on the rubber gloves and open the topical flea and tick treatment applicator over the towel. Do not open the applicator early as it may spill and will need to be cleaned up immediately.

Lift or spread the hair between the shoulder blades of the dog until you can see skin.

Place the applicator tip on the skin area of the dog and tip up to apply. Apply the flea and tick treatment slowly to ensure all of it soaks in and does not run off the dog. Use a dabbing motion with the applicator, tipping it up on the dog, then right side up again to let it soak in a little and repeat until gone.
Lay the dog's hair back down over the treated area, this will help keep the dog from rubbing off the treated area. The medication will soak in after a few seconds, but may remain greasy looking for several days.