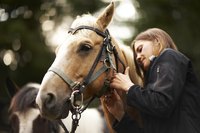 Worms are a constant concern for any horse owner. Worms can make an otherwise healthy horse ill in a short period of time. Since parasites can mimic symptoms of other serious illnesses, your veterinarian likely will perform a fecal exam to diagnose what is ailing your horse. There are over 150 different types of parasites that can infect horses, but several are more prevalent.
Strongyles and Anemia
Strongyles feed on blood in the intestines, which causes damage to the blood vessels and will lead to anemia in your horse if not treated. This can lead to bacterial infections and colic because the immune system is lowered. Since the intestines are the hosting grounds, digestive issues and weight loss will occur. In extreme cases, the strongyles will migrate to other organs and possibly cause an aneurysm and death. These blood suckers infect the horse through contaminated feed or pastures. Consult your veterinarian for treatment options, which may include a wormer that contains both ivermectin and fenbendazole.
Roundworms Hit Young and Old
Roundworms also are contracted through contaminated food and water sources. Young horses and senior horses are the most affected by a roundworm infestation, as adult horses build up an immunity, which lessens in their senior years. The worms enter the bloodstream in the intestines, and are transported to the liver and lungs of the horse. If left untreated, roundworms will cause a horse to become pot-bellied, have digestive issues and will inhibit normal development and growth. Roundworms will cause pneumonia, liver failure and colic if left untreated. Consult your veterinarian for treatment, which often includes an ivermectin-based, broad-spectrum wormer.
Bots and Their Eggs
Bot flies lay eggs on a horse's legs, mouth and shoulders. When the eggs are ingested by licking, they enter the mouth and make their home on the tongue where they stay for about a month. The hatched bots then find their way into the stomach, attaching themselves to the lining of the stomach, causing significant damage to the wall of the stomach. A severe colic is generally the result of a bot infestation, and commonly results in death. Consult with your veterinarian for proper diagnosis and treatment, which may include frequent worming with a broad spectrum, ivermectin-based worm medication.
Pinworm Irritation
Pinworms are the least lethal parasite that a horse can contract. The main symptom of a pinworm infestation is an irritation of the rectum. Mature pinworms will lay eggs in the rectum after surviving in the intestine, and cause intense irritation. A horse with pinworms will often rub his rear on anything he can reach, to the point of hair loss in the tail. In some cases, a horse may have a clear anal discharge as well. Pinworms are contracted through infected food and water. Consult with your veterinarian for treatment, which is often a recommended wormer containing fenbendazole or pyrantel.