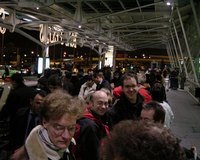 During World War II, Lisbon's airport 'Aeroporto da Portela', was a neutral airport. Its service runways--remnants of this period --are capable of holding very large aircrafts like the Boeing 747. Nowadays, Aeroporto da Portela, is the international gateway to Portugal. It is one of the largest airports in Southern Europe and a major hub for European air travel. Lisbon's airport is located very near the city center, so getting too and from the airport is a relatively simple task. There are plenty of options to fit your needs and budget, which will all allow you to be at your destination in about 20 minutes.
Things You'll Need
Directions to your hotel (or other place)
City map of Lisbon
Street map of Lisbon
Carris bus schedule
Money (in Euros)
Internet
Check to see if your hotel has shuttle service. This will save you the little extra for public transportation. Some hotels that offer shuttle services are the Hotel Raddison Sans Lisboa and the Golden Tulip Altis Park. There are others, so check with yours before you arrive.
Rent a car. If you're planning on taking day trips or just need a car when you're visiting a city, here's the best way to get to and from the airport. Exit the airport and go down Avenida Cidade do Porto. From here, you'll reach the Rotunda do Aeroporto. Watch the signs and take the exit for Avenida do Brasil, which will lead you directly into the city center. Companies with rental desks at the Lisbon Airport include A A Castanheira/Budget, Auto Jardim, Avis, Europcar, Hertz, National/Alamo and Sixt/Auro Rent.
Hail a taxi. This is by far the fastest way to get to the city. The taxi's are lined up outside the baggage claim terminal and are easily accessible. It should cost no more than 10 euros, but make sure to discuss the price before you get in and note that they charge extra for loading and unloading your bags.
Take a public bus. Several buses stop right outside the arrivals terminal. If you have a lot of luggage, the public buses could be a hassle, but if your luggage is light, this is the most affordable option. Buses 5, 22, 44, 45 and 83 pass all the major avenues in Lisbon and also stop in the city center. For more information on bus routes and schedules, call (21) 361 3054 or visit there website below.
Hop on the Carris Aerobus 91. If you have a lot of luggage and you want to take the bus, this is your best option. The Aerobus comes every 20 minutes between 7:40 a.m. and 8:45 p.m. and costs 3 euros. Rossio is the stop in the city center, but the bus also stops at Entrecampos, Campo Pequeno, Avenida República, Saldanha, Picoas, Fontes Pereira Melo, Marquês de Pombal, Avenida da Libertade, Restauradores, Praça do Comércio and Cais do Sodré. Screens onboard the bus show and a list of hotels that are served from each stop.
Staying outside the city? It is still easy to take public transportation to areas like Cascais and Estril. There are shuttle buses running here that offer service between 7 a.m. and 10:30 p.m. Ask airport information for more details on schedules once you arrive at the airport in Lisbon.