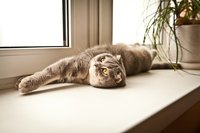 Somewhere between 4,000 and 8,000 years ago, cats and humans became housemates. A feline search for food led to admiration by humans and a friendship was born. On the surface keeping a cat seems easy but in reality your house cat has specific needs. However with a little planning you can provide your cat with optimal care.
Regular Veterinary Care
An indoor cat needs regular vet care just like outdoor cats. A "nose to tail" examination should be done yearly. Vaccinations are required at 2, 3 and 4 months of age and are followed by yearly boosters.
Neutering for males and spaying for females is required by the time your cat is 5 months old. This can prevent problems such as urine spraying, desire to flee and fighting in males, and breast cancer and uterus infections in females.
Never give your cat medicine that has not been prescribed by his veterinarian, including anything meant for humans, other animals or even other cats.
Physical Health
Unlike humans and even dogs, cats eat mostly meat and should not be fed food for humans or other animals. Veterinarian Brian Collins of Cornell University cites obesity as a leading health problem in older, indoor cats. Consult your veterinarian to determine how much food your particular cat needs. Feed cat treats sparingly as too many can cause weight gain.
Proper hydration prevents constipation, which can be fatal for cats. Offer wet food from a can, or add water to dry food. Provide a constant supply of fresh, clean water.
Cats eat plant matter to manage hairballs. Provide your cat with potted grass or herbs. Be aware that some indoor plants are poisonous to cats so ensure that your cat's plant food is safe; keep dangerous plants out of reach.
Provide your cat with a clean litter box, preferably one on each floor of your house.
Mental Health
Expose your cat to various people and sounds so he doesn't become too sheltered and sensitive. However ensure your cat has a place to hide if it gets too stimulated. Occasionally rearrange furniture so your cat doesn't develop a fear of change.
Consider owning two cats to keep each other company while you're out. Two cats will get more exercise because of increased play.
Cat play often mimics natural hunting behavior. Offer toys to encourage this, such as small objects that roll or move when batted. Many cats adore crumpled paper balls and will stalk, chase and pounce on them with fervent enthusiasm.
Scratching Behaviors
Indoor cats don't use their claws as much as outdoor cats, so trim your cat's nails so they won't be prone to getting caught on fabric. Even while indoors your cat will still scratch, so provide scratching posts or mats that are stable and tall enough so that your cat can stretch out while scratching.
Safety Tips
Watch out for potential hazards such as loose electrical cords or objects that might fall on your cat. Remember kittens can fit in small places, so scrutinize your dwelling for potential traps. Check screens, windows and doors, particularly if you live above ground level. An escaped indoor cat lacking outdoor savvy could get in trouble, and falls from a high balcony could be fatal. Make sure that any ingestable hazardous materials are out of reach.