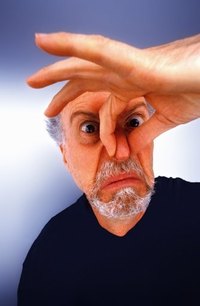 We all have had the experience of sitting on a bus with a gentleman who just doesn't understand the concept of moderation when it comes to colognes. Unfortunately, many men do not understand that with your soap, aftershave, shaving cream, deodorant and cologne all being highly scented, you can end up with a problem. Scents tend to mix not only with each other, but also with your own body's chemistry, which can be a recipe for disaster. So, to avoid being the man that everyone can't wait to get off the bus to get away from, follow these steps.
Throw out your old strong scents. This means soaps, shaving gels, aftershaves, colognes, even deodorant. When you have any single strong and overpowering scent, you pretty much ruin the rest. So it's pointless to go out and buy new products if you still have one that will over power the rest.
Invest in a body wash; this is going to be your base scent. Honestly, unless you are a smoker, this is the smell people are going to notice the most at long distances. This is mostly because it is used on your entire body. You may love that bar of soap, but its a haven for nastiness both with the dirt that sticks to it, and what it does to your shower. You don't even need a loofah. Just pour some soap in your hand and rub it everywhere. The best products out on the market right now are your 8-hour scent technology products. Both Old Spice Red Zone and Irish Spring have great products along this line that you should check out.
Use mildly-scented or scentless deoderants. Though they are the most popular brand in deodorants right now, I'd say stay away from Old Spice. Their scent is incredibly strong, and for some reason it also mixes badly with a lot of men's natural body smells. Scentless is a good option, but that often means that you still smell the chemicals they used to make the deodorant. So, opt for a mild scented brand such as Degree or Arm and Hammer.
Buy the shaving products. This is where it's almost non-negotiable to get anything but scentless products. Once again you will still probably be able to smell the chemicals used to make the product, but the chemical smell is a lot less likely to linger for more than a few minutes, verses a highly scented aftershave or shaving gel. There are plenty of aftershave lotions on the market that are unscented, just look at the box before you buy and you will be fine.
Purchase cologne. Cologne is meant to be an intimate product, not something you share to three blocks worth of people at once. Invest in a mid- to high-priced cologne that has a very clean smell. Not too musky or strong. Stay away from products like Brute and Old Spice. Old Spice is good for their body wash and that's about it. These strong musky scents can make you smell cheap and old. Armani and Diesel both have great lines of colognes that you can buy in confidence.
Put the advice in action. The type of cologne is almost as important as how you put it on. When you get out of the shower, spray one spray into the air and walk through it. That's it. No one should be able to smell your cologne unless they are within about a foot and a half from you. Are you worried that no one will smell it? Well, don't worry. As your body temperature rises, since the cologne is directly on your skin, it will evaporate the cologne from your body. This will emit the smell of the cologne without it being overpowering. Plus it will cause that special someone to want to get that much closer to you to get a good whiff of it. Double bonus!