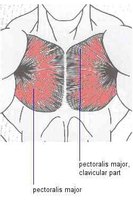 Muscle imbalance in the chest has a variety of sources. It may be work-related, a result of improper weightlifting techniques or simply a product of poor posture or even underdeveloped abdominal muscles. Most people are slightly imbalanced, but this condition can worsen over time until it creates a serious problem. Whatever the reason for it, muscle imbalance in the chest can cause chronic chest pain, greater susceptibility to muscle strains and tears, and even serious health problems as you age. In this article, we will discuss how to prevent muscle imbalance in the chest.
Improve your posture. Stand facing a full-length mirror and square your shoulders to make sure that they are even in alignment. Thrust your chest forward slightly and tuck your bottom under your spine so that there is only a small curve in your back. Relax, but maintain this basic position to insure that you stand and sit in a balanced fashion.

Isolate each side of your chest when lifting weights. Using dumbbells to work one side of your chest at a time prevents you from accidentally compensating for your weak side by doing more work with your strong side.

Lift heavier weights on your weaker side. If you have a clearly weaker side, try to lift slightly heavier weights with that side to help it catch up to your strong side.
Tips & Warnings
If you believe you have a serious muscle imbalance in your chest, consult a trainer or a physician before beginning a corrective exercise regimen.
Photo Credit http://www.homomuscle.com/articleImages/5.jpg, http://www.bodyactive-online.co.uk/IMAGES/TR/chest.jpg, http://agoodposturedoctor.com/images/Poor%20Posture-Correct%20Posture.jpg,
Promoted By Zergnet