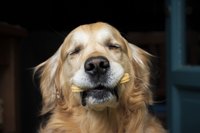 A dog who can perform tricks is a hit among her owner's friends. A popular trick is the ability to balance a treat on her nose. However, this trick requires several skills, such as sitting and leaving the treat alone until instructed otherwise.
Teaching Sit
First, teach your dog to sit if she doesn't already know this command. To do this, hold a treat just above your dog's nose and move it slowly toward her tail. When she sits, give the command, praise and reward. Only use the lure two or three times before just using your hand sans treat. Continue to reward with a treat from your pocket.
Teaching Stay
For this trick to be successful, your dog should learn to perform the commands until you say it's OK to stop. To introduce this, teach your dog to sit until released. Once he can sit on command, wait a second or two and then give your dog an end command, such as "OK" or "go free." Praise and reward. Gradually build up the amount of time you expect him to sit before release. If he releases before you give the command, you are moving too quickly. Don't expect your dog to stay as long during the next practice session.
Teaching Leave It
If your dog tries to grab the treat from your fingers, you won't have much luck getting her to balance it on her nose. Thus, teach a "leave it" command. To do this, hold a treat in your hands and say "take it." Give her the treat. Repeat one or two times and then close your fist. Say "leave it" firmly. Wait for your dog to stop all impolite behavior, such as barking, nosing and pawing. When she backs away and looks at you, praise and allow her to "take it." Repeat until you can do this without closing your fist.
Teaching Balance on Your Nose
Now that your dog can "sit," "stay" and "leave it," teach him to balance a treat on his nose by putting him in a sit-stay. Put your hand gently under his chin to prevent him from looking down. Place the treat on the middle on his nose where it naturally balances. Remove your hand slowly. Give him the release command. If he moves before you release, keep your hand in place until releasing. Practice until your dog can do this for several seconds. Just remember that this treat can be very stressful for dogs, so don't make him wait too long.