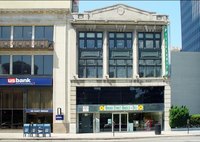 A good bagel is easy to tell--it is crunchy on the outside, chewy on the inside, and if it is still warm when you bite into it you know you have come close to a heavenly experience. Many an entrepreneur is inspired to start a bagel business and if you are ready to join the ranks of bagel lovers willing to take that step into commerce, consider carefully the various options open to you. There is more to a successful bagel business than a business plan and marketing strategy. Starting a bagel business begins by deciding which kind of bagel venture to start. Follow these steps and you can make this crucial decision quickly and easily.
Things You'll Need
Market research
Funding
Franchise information
Business license and food business license information
Business location
Marketing plan
Consider purchasing a franchise. Sunrise Bagels and the Manhattan Bagel Corporation are the premier names of franchises aimed at bagel aficionados who are ready to enter the market. Do your research carefully and study the participation agreements diligently as start up costs vary greatly between different bagel franchises.
Set up an independent store front. If you believe you have what it takes to compete with the big names in the bagel business and if you have some unique ideas that are sure to make your bagel business stand out from the rest, go ahead and investigate the available restaurant space in your area. Discuss a small business loan with your local bank or seek out investors from within your circle of friends and your family.
Bypass direct consumer sales by starting a bagel catering business. This kind of bagel business can be run from your home or a very small store front. In some cases you may even sublet the kitchen facilities of a local private school, church, or mom and pop restaurant in your area to prepare your orders. Marketing is important in this kind of venture and heavy Internet ad campaigns coupled with local impact promotions are key components to making this a highly successful venture.
Focus on the wholesale aspect of the bagel business. If catering is too time consuming for your taste and includes too many incidentals you need to provide in addition to the bagels, you may be able to become a wholesaler who sells to the local bake shop, school, hotel, bed and breakfast and also restaurant businesses. You need substantial oven and baking facilities but if you have a large home kitchen or maybe even a spare room you can convert into a bakery with industrial size ovens, this is a great bagel business to start.
Think outside the bagel box. There are plenty of things you can do with a bagel that may make more sense for you to market than just the plain bagel. For example, instead of becoming a bagel store, you could aim for making your bagel business a bona fide deli where the bagel is the base on which you build your deli creations. This requires a bit of market research and finesse but if your locale is already saturated with bakeries but under served when it comes to delis, you can still open a profitable bagel business--albeit in the guise of a deli.