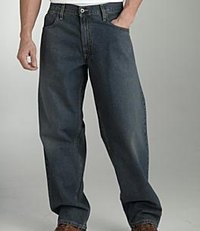 Baggy jeans were extremely popular in the nineties. Men of all ages seemed to embrace the trend, but teen boys, in particular, took the style to new heights. At one point, baggy jeans were even banned from schools because they exposed the wearer's underwear. If you want to rock this trend without being banned from any social institutions, it would be wise to keep in mind the following guidelines.
Things You'll Need
Get your exact waist and inseam measurements so that you know which size jeans to buy. You can use a body measuring tape to do it yourself, or ask a salesperson at any denim store to take your measurements. It really doesn't make sense to buy jeans that are two or more sizes too big just to get that baggy look. All major denim brands offer jeans that fit at the waist, but flare down to maintain that baggy style without exposing your tighty-whities. So, please, don't buy oversized jeans that hang down all the way to your knees. Hit up Diesel, True Religion, or J Brand boutiques for a stylish pair that won't fall off your derriere.
Wear a stylish belt if you absolutely must wear an oversized pair of jeans to get that edgy, street-wise look. Do the law-abiding public a favor and cinch the jeans at the waist so that you're not running the risk of indecent exposure. Thus, you can still enjoy the trend without the fear of getting arrested.
Pair your baggy jeans with trendy sneakers to channel that sleek, urban style. The casual look of baggy jeans would look awkward if worn with classy dress shoes. You can also wear this trend with sandals, especially during the warm summer months.
Complete the look by wearing a t-shirt, polo, sweatshirt, or hoodie on top. Make sure that you maintain the overall casual feel of the entire outfit. Finally, accessorize with a baseball cap or beanie. Now you can walk the streets looking cool and confident while successfully dodging both the fashion police and the actual police.