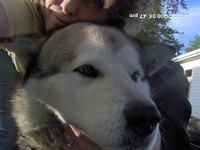 You brought home your beautiful new pet and realized there was a problem. Your new dog wanted to be the family "pack" leader. A dominant dog in the home can be dangerous, especially if you have children. The dominant dog may want to discipline a child, or you, the same way it would a dog pack member. The dominant animal in a pack often growls, snaps, bites, or puts the subject to the ground, until the subject, offers submission. Obviously, you cannot live with a dog that treats you or other family members that way. Will you have to take the dog back or is there a way to train and live with a dominant dog?
Things You'll Need
Dogs are pack animals by instinct and that instinct controls much of their behavior. You need to spend a lot of time with your new dog until it accepts your family as the new pack to which it belongs. Dogs play together sometimes by rolling around on the ground. You should play this way occasionally with your dog and have fun together.
Pack animals determine who is boss is by fighting. The dominant animal holds the throat of the opponent until the opponent concedes. You can show your dog that you are the pack leader by following this pack protocol. Yes, you need to growl at your dominant dog's throat to show him that you are the pack leader, not him. You may need to repeat this behavior periodically just as pack leaders do in the wild.

Other family members, including children, will also need to play by the pack rules. This will help the dominant dog understand his place in the family pack. Again, it is important to spend a lot of time with the dominant dog so he accepts his new pack.
You may want to place a dog crate in the room that the family is in most often. Use the crate for doggy time outs when your dog tries to be the pack leader by showing aggression to any family member. You may even want to cover the crate with a blanket so he can't see his family pack during time outs. If your dog shows aggression to a family member, have that person repeat step one.
You can enjoy your new dog when he accepts his place in his family, which means that all people are above him in the pack. Your dog can be happy with this arrangement as long as you show plenty of love and affection.