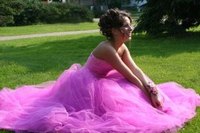 Your prom dress was beautiful. You looked great that night. But alas the night is over and now you wonder what to do with it? It's the age of recycling. For this reason, don't just stuff it in a box. Make it useful again. Here are some steps and ideas on how you can do just that--and possibly even keep the magic of the night still alive.
Give your old prom dress to a teenager who needs it; this is the best way to recycle it. Do you have a younger sister, cousin or friend who may want to wear it? She can always alter it a little, if needed.
Donate the old prom dress to a clothes charity of your choice. Then maybe another lucky teenager will be able to buy it and wear it her upcoming prom.
Turn the top of the dress into a cute, sexy and dressy tank top (if you have a few sewing skills). If it has sleeves, cut these off and hem the shoulder area. If it is already sleeveless, all you may have to do is cut the dress near the waistline and hem.
Turn the skirt part of the dress into a cute skirt. If you don't like the long length, shorten it.
Shorten a long dress it and turn it into a fancy dress that you could wear on dressy occasions. You could also redo the sleeves, if needed.
Cut the skirt part into a shape of a small pillow case or two if you love the color and feel of the dress.
Consider turning it into a table cloth for small table.
Remember any left over scraps could make nice hair ties or tie belts.