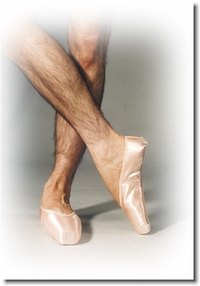 Legend has it that King Louis XIV gave birth to the pointe shoe. During performances in his court he would take to the stage and rise onto his toes. Though this is often considered a myth, there is some resemblance to the shoes worn at the King's Court and the modern day pointe shoes we see today. So if man gave birth to the pointe shoe, why should he not wear it? Pointe shoes for men are not widely available because of the waning interest in the dance industry. Naysayers believe that pointe-training for men isn't useful, while supporters believe that training with pointe shoes can strengthen the feet, while offering a level of stretch that is not traditionally possible with ballet slippers and demi-pointe shoes. If you're looking for male pointe shoes, here's your guide to finding them.
Things You'll Need
Learn about pointe shoes for men, which are no different than pointe shoes for women. Some designers make a steel shank that is said to be stronger and possibly better for the male dancer, but there is no evidence to prove this. Pointe shoes are not durable, often only lasting one performance, so the material of the shank doesn't really matter.
Know where to look. Ten years ago, finding pointe shoes for men was nearly impossible, but today many name brands offer an extensive collection of pointe shoes in larger sizes. Capezio and Russian Point offer pointe shoes in larger sizes to fit the male dancer.
Find what you like. Many men would prefer to dance with a pointe shoe in a color other than pink. Most dancing shoe brands, including Bloch and Grishko, design pointe shoes in a number of colors. Black and blue are the favorites for men. They can also be found in canvas rather than the traditional satin. Pointe shoes can cost anywhere from $30 to $75.
Get fitted. As with all pointe shoe purchases, it is equally important for men to be fitted correctly. Ask the salesperson, who should be trained in the fitting of pointe shoes, to help you. You should also discuss the process with your instructor. Her advice is crucial as she's probably done this before.
Avoid injury by wearing pointe shoes that are snug and fit like a second skin. However, the shoes shouldn't be so snug that they cause your toes to become numb, fall asleep or apply excessive pressure to any part of the foot. One of the leading causes of dance injuries are incorrectly sized pointe shoes.
Adding to the confusion, pointe shoes usually run smaller than your regular shoe size and come in soft, medium and hard and in widths of B, C, D, E and EE.
Finding the correct width requires trial and error. Try several. All five toes should lay flat against the sole. When you apply weight to the platform or go up onto pointe, your foot should not slide down into the box. If it does slide you need to try a smaller width.
Fit each foot separately to ensure proper sizing. Everyone has a variation in their foot size although in most cases and with most everyday shoes the difference is barely noticeable. Pointe shoes are different.
Test your shoes. You should be able to feel the end of the box with your toes, however when you perform a plié, your toes should not be forced to curl under.
Soften the shoes and the box. Now that you've selected and sized your new pointe shoe you'll want to soften the shoe and box. Place the box (this is the hard block at the toe) between the palms of your hands and gently apply pressure. Do this for each shoe to soften them.