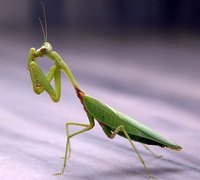 Have you ever wondered what it would be like to keep a praying mantis as a pet? These unique and alien-like creatures actually do make quite amazing pets, if you can catch one. Don't worry. All it takes is a good eye and patience, and you too will have one of these mantids as a pet.
Things You'll Need
Head outdoors. Although every once in a while you can find one of these insects hanging out in your house, the majority that you will find will be outdoors. If you live in the city, plan a day to go out into the country. Take a picnic lunch and your bug catching gear, and get ready for a day of fun.
Start your search for the praying mantis. They can be quite hard to see since mantids have great camouflage skills as their defense mechanism and will quite often be mistaken for a stick or a leaf. Your best bet is to pick one bush at a time and very carefully search its leaves. The more patience you have and the better eye that you have, the better chance that you will be able to catch a praying mantis in the wild.
Once you have found a praying mantis, the next step is to catch it. Luckily, a praying mantis is not an incredibly quick creature (hence their need for camouflage) so catching one should be pretty simple. Gently put your net in front of the mantis and nudge it from behind to get it to walk into the net. If you are really brave, you can put your hand in front of the mantid and gently nudge it into your hand with your other hand. Never grab a mantid between your fingertips to pick it up. You could potentially harm it.
Now that you have caught a praying mantis, gently place him in the terrarium. Make sure there are twigs for him to climb and leaves for him to camouflage with, but do not crowd the terrarium with too much unneeded stuff. Also do not put a water bowl in the terrarium with the mantis. Mantids drink by water droplets off of plants, so just periodically mist your habitat with a spray bottle (not too much) and the praying mantis will be just fine. Also be sure to feed the mantis. Adult mantis will like moths, or crickets, but for a baby you should stick to fruit flies or house flies.
Now you have a unique pet but if for some reason you get tired of him, release him back out into the wild. They make great pest control workers in your garden.