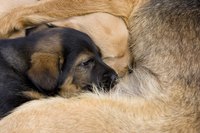 Measured from the date of ovulation to birth, dogs are pregnant for an average of 63 days. However, the term of your dog's pregnancy can deviate from this average by about one week, so be ready for your dog to give birth during a two-week window. The number of puppies in the litter can influence the length of gestation; larger litters tend to arrive more quickly than small litters.
Signs of Pregnancy
Pregnant dogs do not provide many obvious clues to their condition early in the pregnancy. Your pet may put on a little weight, act tired or eat less food during the first few weeks of the pregnancy. Morning sickness is not common, but it occasionally occurs for a few days during either the third or the fourth week of pregnancy. If you notice any of these signs, or your unaltered dog has recently mated with a male, visit your veterinarian to confirm the pregnancy.
Gestational Stages
Pregnant dogs experience three 21-day phases in their pregnancy, called trimesters. Near the end of the first trimester – around the third week of pregnancy – your veterinarian can detect the developing embryos via ultrasound. Between days 28 and 35 – during the second trimester – your veterinarian can palpate to feel the young puppies, but you shouldn't try to unless you have received adequate training. It's easy to harm the walnut-sized puppies at this time. By the end of the second trimester, your dog's abdomen swells and her nipples may change color, enlarge or release fluid. Your vet can take an X-ray near the start of the third trimester – approximately 45 days into the pregnancy – to determine how many puppies you should expect.
Signs of Labor
About 24 hours before the new pups start arriving, your dog might refuse to eat and lick her genital area. Additionally, the body temperature of some – but not all – females drops below 99 degrees Fahrenheit during this time. Signs of anxiety, such as pacing, also tend to appear immediately before the onset of labor. Prepare a whelping box, filled with clean, dry blankets, and sequester your dog inside it once such signs appear. If she needs to go outside to relieve herself, keep her on a leash and watch her closely. Take a clean towel with you to wrap up a puppy in case your dog delivers one while you're outside with her.
When to Call Your Vet
Deciding exactly when your dog should deliver isn't an exact science, but consult your veterinarian if your dog has not gone into labor by the 65th day following breeding. Your veterinarian will advise you on the best course of treatment, which may vary from monitoring her status to bringing her in to get labor started or for a Cesarean delivery. Even if your dog goes into labor quickly, she may have trouble passing one or more of the puppies through her birth canal, an occurrence that is more common among large-headed breeds, such as pugs and bulldogs. Some dogs take breaks between puppies, but contact your veterinarian if your dog is experiencing repeated, unproductive contractions for more than 30 minutes without passing a puppy.