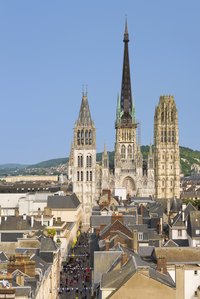 The region of Normandy is easy to reach from Paris, whether you are driving or taking advantage of public transportation. Travelers can reach several towns in Normandy from the Charles de Gaulle International Airport by taking local and high-speed trains or renting a car at the airport and driving.
Train
France has a fast and well-connected high-speed train network, enabling people to get from the airport to Normandy in a few hours. At the airport, look for the RER Line B on the transportation level of terminals 2 and 3. This train goes to Paris' Gare du Nord train station in about half an hour. Switch to Line E and take a five-minute ride to Gare Saint-Lazare. From Saint-Lazare station, board a high-speed train to Normandy. Popular stations are D-Day spots like Caen and Bayeux; other Normandy stations include Deauville, Rouen, Le Havre and Alencon.
Driving
Exit the airport in Paris and get on the A13, heading west towards Normandy. The drive will take about two hours, depending on where in Normandy you plan to go. The A13 highway passes directly through Normandy towns such as Evreux, Rouen and Caen. Remember that most rental cars in France are manual transmission and you'll have to pay more for automatic.