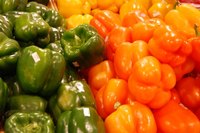 Lowering your blood pressure in the past appeared to be little more than cutting out salt and eating most foods in a somewhat bland fashion. In addition, physicians would strictly forbid the ingestion of alcohol and more often than not suggest an exercise regimen. Even as these are great ideas, it is important to understand that you can lower your blood pressure with by eating vegetables. Follow these few steps to eating yourself healthy.
Things You'll Need
Mechanical blood pressure monitor
Vegetarian cook book
Change your shopping habits. The odds are good that you are already purchasing veggies, but most likely you are going for the canned variety. Instead, purchase fresh or frozen vegetables. In a pinch, you may buy canned vegetables—but only if they are specifically labeled as either "low in sodium" or "sodium free."
Alter your cooking habits. Many consumers know to fry veggies, such as eggplants, or serve them in heavy butter sauces (especially corn and asparagus). This adds salt and fats to the vegetables which adversely affect blood pressure. Instead, use recipes that cook or steam the vegetables. Consult a vegetarian cookbook for innovative methods of cooking vegetables.
Make vegetables a mainstay in your diet. Five servings are reasonable, and if you believe to have a hard time incorporating so many servings of vegetables into your daily meal planning, why not choose to also use them in low sodium juice form? Incorporate low sodium vegetable juice to enhance your intake of vegetables daily.
Become an informed shopper by knowing which vegetables offer the best odds for lowering blood pressure. Pick out asparagus, beans (white, green or lima), broccoli, Brussels sprouts, cabbage, cauliflower, corn on the cob, eggplant, green peas, peppers, baked or boiled potatoes, radish, and squash. Make a shopping list to write down which vegetables you are going to buy and also which other items, such as herbs, you require for the meal you will prepare.
Replace table salt with a plethora of herbs and other spices. Chives, dill, garlic powder, dry mustard, mace, onion powder, paprika, and turmeric are excellent options for salt substitution.