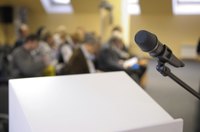 Public speaking can be overwhelming and downright scary even for experienced speakers. It's also a leaned skill that with the right attitude and enough practice even the most timid person can master. The goal is to focus on the message instead of on how you feel. According to David Carbonell, an Illinois-based anxiety coach and author, the trick to achieving this goal is to embrace and commit to the role of a speaker.
Acknowledge Your Fears
Make a list of the aspects of public speaking that make you anxious or afraid. This might include a bad audience reaction, going blank and hyperventilating. Then list the ways you commonly address these fears, such as reading a prepared speech word-for-word, rushing and avoiding direct eye contact with the audience. According to Carbonell, these types of coping mechanisms are ways of resisting the role of speaker, avoiding connecting with the audience and of "getting through." They typically increase rather than decrease fear and anxiety.
Practice in a Variety of Settings
Formal practice before a speaking event and informal practice in social situations is often helpful in overcoming public speaking anxiety and fears. Practice a complete speech in front of people you're comfortable with or record it with a video camera. Analyze your own presentation and ask for feedback. Force yourself to speak with strangers in social situations, contribute to discussions in business meetings or speak up in a class. Drive away negativity by approaching every practice situation from a perspective of being successful and having fun.
Get Training and Support
Most people aren't born with public speaking skills. Learn the art of public speaking and improve your oral communication skills by taking a speech class or joining a local support group. One resource is Toastmasters International, a global nonprofit organization with local chapters that helps people develop and practice good speaking and leadership skills. If you can't find a support group that focuses specifically on public speaking, look for a group that deals with social anxiety. The Anxiety and Depression Association of America's website maintains a support group database, or check with a mental health professional in your area to find support group information.
Plan and Prepare
Instead of procrastinating, start working on a speech or presentation as soon as you receive the assignment or invitation. As you begin writing, organize your thoughts in a sequence such as a time line or specific steps. This will not only help lessen the fear of "going blank," but will also make your speech easier for the audience to follow. If you plan to use props or audio-visual equipment, have a back-up plan to avoid being caught off-guard if the equipment fails. If possible, visit or conduct a few practice runs at the location so you'll feel more comfortable.