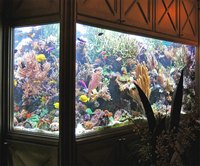 One of the most important maintenance tasks in aquarium ownership is the water change. It is necessary to change the water in fish tanks in order to remove nitrates from the water and keep your aquarium occupants healthy. Changing the water in a saltwater tank used to be a complex task but thanks to modern technology, it's become a lot easier.
Things You'll Need
Siphon (depending on the size of your tank)
Commercial salt mix
De-chlorinated water
Water test strips
Aquarium scrubber
Disconnect the power to your aquarium.
Remove and clean the cover and any other panels that require cleaning. Use your algae scrubber to remove algae from the glass or acrylic panels.
Clean your filter. Rinse the filter in tank water, not tap water.
Remove 10% to 20% of the water. A siphon is the easiest way to remove water from the tank. Place towels on the floor to prevent water damage and then remove a portion of the water. Change up to 20% of the water monthly or bi-weekly and 50% of the water on an annual basis.
Clean the gravel. When using a vacuum or siphon, it's important to use it to clean the gravel as well. Clean as much of the gravel as you can in the aquarium until the proper amount of water is removed.
Clean all pumps and hoses. Remove salt creep and add it back to the tank. Clean the skimmer cup.
Add your mixed salt water to the tank. Be sure to test the water first to make sure that it's the proper mix and also that it's close to the same temperature as your tank. It's best to prepare your salt water 24 hours in advance to ensure that the solution is properly dissolved.
Test the water for salinity and temperature. Replace the tank cover.