The U.S. Census Bureau predicts that by 2020, the average life expectancy will be 79.5 years. There is no magic pill to reverse aging, and the National Institute on Aging cautions you to be wary of any supplements claiming to do so. Rather, exercise and eat plenty of vegetables to help stave off disease and feel young.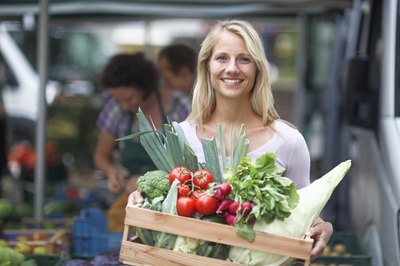 Protect Your Heart
A study published in 2004 in the "Journal of the National Cancer Institute" followed more than 100,000 men and women for 14 years. Individuals who consumed eight or more servings of fruits and vegetables daily had a 30 percent lower risk of cardiovascular disease. The most beneficial vegetables were leafy greens and cruciferous vegetables, such as broccoli and cabbage. Vegetables are also an excellent source of dietary fiber, which helps lower your cholesterol and prevent heart disease and Type 2 diabetes.
Fight Cancer
Harvard School of Public Health notes there is inconclusive evidence regarding a direct link between vegetables and cancer prevention; however, certain vegetables may guard against specific types of the disease. Leafy greens and cruciferous vegetables may decrease your risk for mouth, throat, esophagus and stomach cancers. Cruciferous vegetables contain organic compounds called glucosinolates, which may aid in clearing cancerous substances from your body and help protect you from lung, stomach, colon and rectum cancer, according to a review article published in 2004 in the "Journal of Postgraduate Medicine."
Strengthen Your Bones
Vegetables contain calcium, potassium, magnesium and vitamins C and K, which give you strong bones and may help prevent osteoporosis. Consuming eight servings of fruits and vegetables a day has been shown to decrease calcium and bone loss. Vegetables that contain carotenoids, which are antioxidants that reduce inflammation, decrease your risk for inflammatory arthritis, according to a study published in 2005 in the "American Journal of Clinical Nutrition." Carotenoid-rich foods include sweet potatoes, carrots, butternut squash, pumpkin, red peppers and leafy greens.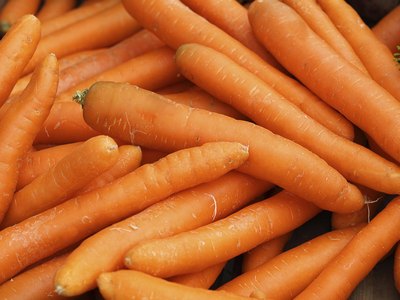 Save Your Eyesight
Age often brings a reduction in vision and an increased risk for macular degeneration and cataracts. Lutein and zeaxanthin are two nutrients found in corn, squash, spinach and kale. They destroy free radicals produced through exposure to sunlight, pollution, smoke and infection that can harm your eye tissue and lead to the aforementioned diseases.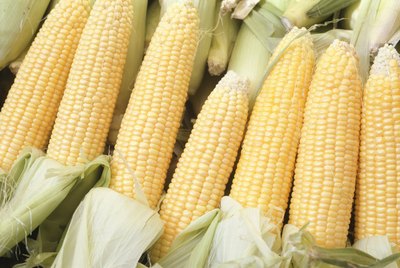 Keep a Youthful Glow
You probably not only want to feel young, but look young, too. The Cleveland Clinic states the antioxidants in vegetables protect your skin from ultraviolet rays and the damaging effects of free radicals. Broccoli, sweet potatoes and spinach contain vitamins C and E, which may reduce wrinkles. Tomatoes boast lycopene, an antioxidant that helps keep skin smooth.