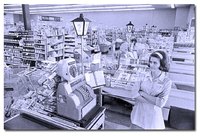 Customers are the heart of a company. If the heart stops working, the company dies. This article will educate you on how to approach a customer. After all, the customer is always right.
Approach the customer in a firm but kind manner when delivering negative news. If a customer believes he is not getting enough for his money, and you cannot offer more than is being offered, explain to the customer that you are unablet to make any further amendments. Remember to be kind but firm. If the customer is persistent, kindly tell the customer that you will have to have a manager review the matter further.
Approach the customer with an alert attitude when trying to help. When customers come to you for help, they expect you to be alert and knowledgeable. Be direct and ask question to find out how you solve the customer's problem.
Never make a customer wait for you. If you need to leave to find additional help, ask the customer to follow you.
Offer discounts or promotions upon arrival. For example, if a customer comes in with a discount coupon from another pizza establishment; ask a manager if you can honor the competitor's coupon. If not, ask if you can give the customer a reduced price for the item.
Be productive when customers are around. Ask questions, monitor the stock, or perform light cleaning. Failure to do so may give customers a negative view of the establishment. This may prevent future business.
Leave a good impression on your customers as they leave your establishment. After serving a customer, it is extremely important to leave a good impression. After serving a customer, thank him for coming, hold the door open as she leaves, ask if there is anything else you can do to help. Remember, the customer is the heart of your company!