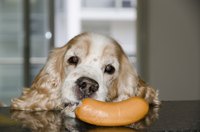 The simple way to give a dog any type of medicine is to mix it in with a bit of canned dog food. He likely will woof it down and never realize it. Some dogs can taste medicine a mile away, or are not eating and it takes some trickery to get the medication into him.
Things You'll Need
Liquid medication
Bulb dropper
Cheese slices
Commercial dog treats (optional)
Liquid Medications
Draw up the correct amount of liquid medication into a bulb dropper. Hold the dispenser in one hand and place your other thumb between your dog's upper and lower lip at the rear of his mouth.
Insert the tip of the bulb dropper in the pocket between his teeth and his cheek and quickly press the bulb to dispense it.
Close his lips and blow sharply at his nose to make him swallow when he inhales. You can massage his throat instead of blowing at his nose to encourage swallowing.
Pills, Capsules and Powders
Place a pill, capsule or the measured dosage of powdered medication in a small piece of a cheese slice. Wrap the cheese around the medication so it makes a ball and seals it inside.
Take a few other small pieces of cheese and roll them into slightly smaller balls. This allows you to tell the difference between the "loaded" cheese balls and the ones with no medicine inside.
Hold all the cheese balls in one hand. Give two plain ones to your dog in quick succession, followed by the one with medication and another plain one immediately. He will be so interested in another bite that he will gobble his medication.