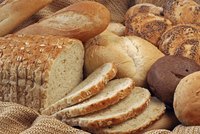 It seems unfair that an indulgent morning doughnut will leave you doubled over with cramps and abdominal pain in the afternoon, and you are not alone. Lactose intolerance -- an inability to digest dairy sugar -- affects approximately 65 percent of the population, according to the Genetics Home Reference. Knowing what to look for in the bread and grains aisle will empower you to enjoy meals despite digestive issues.
Hidden Sugar
The nutrition facts label on the back of packaged bread and grains tells you exactly what is in the product. Sometimes, you'll see the word "lactose," but the sugar is often hidden in other dairy products, including whey, milk solids and dry milk powder. Other ingredients that may contain lactose include caseinates, nougat, milk byproducts, butter, curds, cheese and yogurt.
Packaged Vs. Unprocessed
Most packaged bread, crackers, rolls, muffins, biscuits, waffles and pancakes contain dairy. Some breads -- including bagels, French bread and Zwieback -- may be safe, but read the label carefully. Raw grains such as rice, oatmeal, cream of wheat and rice cereals are typically lactose-free. You might consider making your own bread using a dairy alternative such as almond milk.