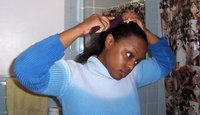 The primary reason that African and African-American women wash their hair bi-weekly instead of daily is because it takes a longer amount of time for the dirty oils to appear than they would in women of other ethnicities. African American hair is oftentimes dry, coarse, and/or thick, and oiling the scalp prevents dandruff, an itchy scalp and dry skin. Hair oil also increases hair growth.
Things You'll Need
Hair oil, preferably including aloe vera, cocoa butter or tea tree oil
Comb with teeth to part hair
Part hair in small sections about 2 centimeters apart. Dip the index finger into the hair oil and lightly run the index finger along the part in hair so the oil goes directly on the scalp, not just the hair. Repeat oiling scalp from one side of head to the other.

Run fingers along the edges of the head to oil the sides, front, and back.

After the scalp has been completely oiled, brush hair to blend oil in scalp, through hair, and to the edges.