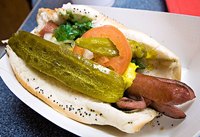 Nowadays, it's easy to find healthy options for almost every kind of junk food favorite. In the past, hot dogs have were seen as unhealthy, full of nitrates, fat, and cholesterol. Here we'll examine several alternatives to traditional hot dogs with an eye to healthy eating.
Things You'll Need
Try alternative meats or meat-free dogs. Hot dogs are traditionally made with beef or pork, which often raise the fat content of the hot dog. Turkey and chicken hot dogs are available in most supermarkets and provide a very good low-fat alternative to beef and pork. The adventurous eater might be interested in trying a meat-free or tofu hot dog.
Cut down on extras or choose the healthy ones. Additions of toppings like cheese, chili and mayonnaise will raise the calorie and fat content of your hot dog. If you're counting carbs, skip the bun entirely or choose whole wheat, sprouted or spelt bread buns, all great alternatives to the white-bread bun.
Prepare hot dogs in a healthy way. We all love the taste of a char-grill hot dog, but grilling can contribute some carcinogens to food prepared that way. Most hot dogs purchased in a packages are already cooked. To heat them you can boil, steam, microwave and even toast them in a toaster oven rather than grill.