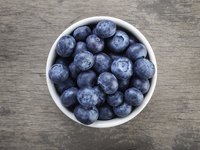 Although you can't turn back the clock, you don't have to succumb to all the physical signs of growing older. You can support healthy aging through dietary measures, by choosing nutritious foods that promote a more youthful appearance and stronger mental health. Your diet can also help you avoid chronic illnesses that often incapacitate older adults or affect their quality of life. Talk to your doctor about using diet as part of an overall health care plan.
Skin Rejuvenation
Your skin loses elasticity and moisture over time, resulting in lines and wrinkles. You can't reverse skin aging, says the Linus Pauling Institute, but you can address deficiencies of antioxidants – compounds that protect against environmental and age-related damage to cells. Vitamin C, for example, helps your body manufacture collagen, an essential protein in skin rejuvenation; it's abundant in citrus fruits, melons, broccoli, tomatoes and sweet peppers. Vitamin A, found in eggs, meat and fish and as beta-carotene in orange- and yellow-colored fruits and vegetables, also helps form healthy skin tissue. In addition, Dr. Susan Stuart, a dermatologist, told The Huffington Post in 2013 that beta-carotene foods give skin a natural tan -- without the danger of excess sun exposure.
Boosting Brain Power
One sure sign of aging is reduced memory – you can't find your car keys, or you fumble with vocabulary. Some studies suggest that consumption of blueberries, which are high in antioxidants called anthocyanins, may help. Research published in "Nutrition" in 2011 found that four months of a blueberry-enriched diet actually reversed object memory decline in aging rats. In a small human study, published in the "Journal of Agricultural and Food Chemistry" in 2010, researchers found improved cognition in older adults with consumption of blueberry juice for three months but cautioned that more human trials are needed.
Healthy Joints
Stiffness and pain in your knee joints from arthritis can make it more difficult to walk, restricting your movement or necessitating use of a walking aid. If you shed weight by choosing a healthier diet and cutting calories, you may be able to reverse this visible sign of aging. A study published in the journal "Arthritis and Rheumatism" in 2005 found that losing just 1 pound of weight reduced the pressure on the knees by 4 pounds. Similarly, a 2010 study published in "Annals of Rheumatic Disease" concluded that losing weight can both reduce pain and improve joint function.
Disease Prevention
As you get older, you may find yourself a regular customer at the pharmacy, buying a host of medications for chronic illnesses such as high blood pressure, a risk factor for heart disease. A healthy diet may help reverse the progress of certain conditions associated with aging. For example, following the Dietary Approaches to Stop Hypertension Diet, with its emphasis on balancing potassium- and sodium-containing foods, is shown to lower blood pressure, eliminating the need for medication in patients with moderate hypertension. A small study of 30 men with prostate cancer, published in "The Lancet Oncology" in 2008, found that an improved diet, along with other lifestyle changes, increased the activity of the men's telomeres -- parts of the DNA molecules that protect against the risk and progression of diseases such as cancer.