Using eyeliner on the waterline – the area of skin between your lash line and actual eyeball – gives the illusion of thicker, fuller, longer lashes. While lining the lower waterline is fairly simple, applying eyeliner to the upper waterline takes a little more practice, but is worth the extra work. Since the waterline is moist, you need to use eyeliner that transfers color easily without irritating the delicate skin - this makes pencil liner a prime choice.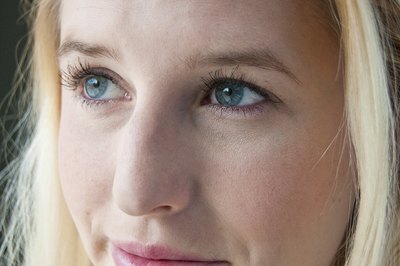 Lower Lashes: Step 1
Place a pencil liner at the outside edge of your eye with the tip of the pencil touching the waterline. The goal is not to completely cover the skin with eyeliner, but rather to make the bottom lash line appear thicker. To achieve this, stay close to your eyelashes and move the pencil from the outside edge of the eye toward the inner corner.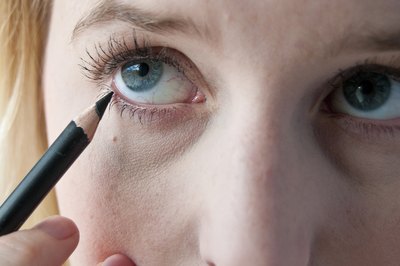 Lower Lashes: Step 2
Go back and forth a couple of times until you've achieved the look you're going for.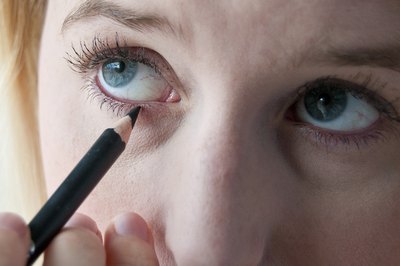 Upper Lashes: Step 1
Use your index finger to pull your eyelid up so that the upper waterline is clearly visible.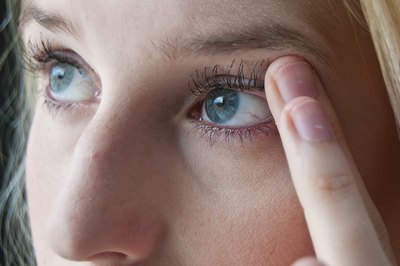 Upper Lashes: Step 2
Work the eyeliner onto the skin by moving back and forth in small strokes along the waterline until the color transfers.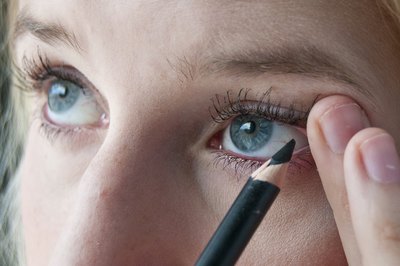 Upper Lashes: Step 3
Once you've lined the waterline, wiggle the liner pencil back and forth between the roots of your eyelashes. The key to success is to make it look like you're not wearing eyeliner in that area at all, but instead like you have naturally dark and thick lashes. Choose black, dark brown or brown eyeliner, depending on the color of your eyelashes and the rest of your features.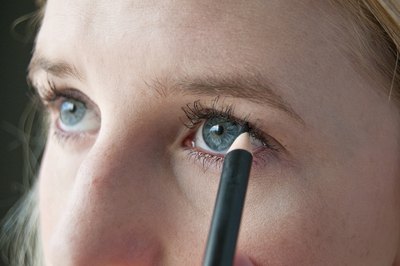 Tips
• When applying liner to the inside of your eye, you have to use extra care to make sure that your eyeliner is clean every time you apply it. If your eyeliner is covered in bacteria, it can cause dangerous infections that just aren't worth the risk. To sanitize your eyeliner, sharpen the pencil and wipe the surface of your eyeliner pencil with a tissue moistened with 70 percent rubbing alcohol. Let the alcohol dry completely before using it to line your eyes.
• If you have dark features, like dark brown or black hair and brown eyes, you may want to use black eyeliner. Brown eyeliner works well for lighter features. The end result is still dramatic, but it looks more natural this way.