More than 50 million Americans suffer from some form of arthritis, according to the Centers for Disease Control and Prevention. An anti-inflammatory diet may help some people, specifically those with rheumatoid arthritis or osteoarthritis, better manage their pain and condition. Consult your doctor to discuss your diet for arthritis.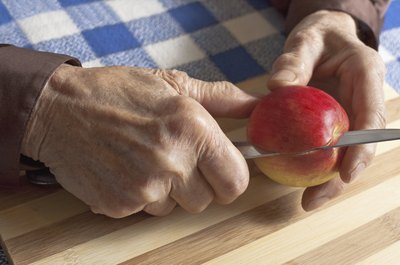 Food and Arthritis
You may not think of food as a source of pain relief, but certain foods contain nutrients that help reduce inflammation, which may alleviate the pain caused by arthritis. These anti-inflammatory nutrients include omega-3 fatty acids, antioxidants such as vitamins C and E, polyphenols, prebiotics and probiotics.
When trying to reduce arthritis inflammation, it's also necessary to limit foods that promote inflammation, such as processed carbohydrates and foods high in trans and saturated fat. Balancing your calorie intake to maintain a healthy weight helps reduce inflammation, too.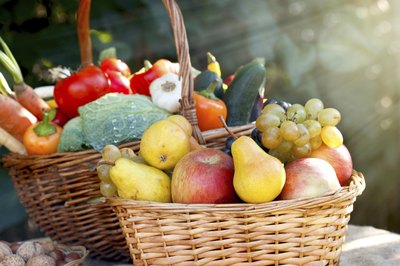 Start With a Healthy Diet
While specific nutrients and foods are beneficial for helping you manage your arthritis, it's important to start with a healthy diet. Eating the right foods helps ensure your body gets all the nutrients it needs to promote overall good health. Plus, it may help you manage your calorie intake for better weight control.
A healthy diet for arthritis is one that includes plenty of fresh fruits and vegetables that fill at least half your plate, says the Academy of Nutrition and Dietetics. You also want to include more whole grains than refined grains. The fiber in whole grains helps you feel full, which may aid in managing caloric intake and weight control. Add healthy sources of protein such as lean meats, poultry, seafood, legumes, nuts and seeds. Keep your dairy options low-fat or fat-free.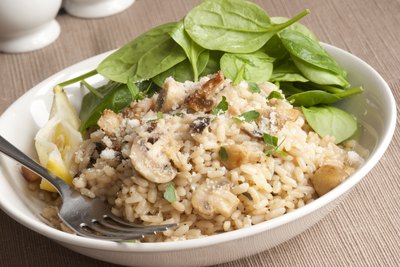 Foods That Help
Add foods rich in the nutrients that reduce inflammation to your healthy diet. For omega-3 fatty acids, the Arthritis Foundation suggests 3 to 4 ounces of fatty fish a week. Other food sources of omega-3s include chia seeds, flaxseeds and walnuts.
Fruits and vegetables are rich in antioxidants and polyphenols. To maximize nutrient intake for inflammation, be sure to include berries, cherries and leafy greens such as brussels sprouts and kale regularly throughout the week. Enjoy a handful of almonds, hazelnuts or peanuts to help boost your intake of vitamin E.
Onions and Jerusalem artichokes are rich in prebiotics, nondigestible substances in food that help promote the health of gut bacteria. Yogurt, miso and kimchi are sources of probiotics, which contain friendly microbes to help repopulate the good bacteria in your gut.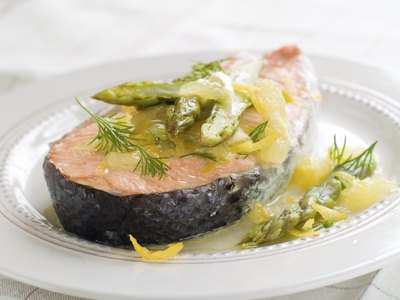 Sample Diet
An anti-inflammatory breakfast for arthritis might include toasted whole-wheat bread with peanut butter, a container of nonfat Greek yogurt and a bowl of cherries. For lunch, try kale salad topped with grilled salmon and walnuts with a fresh orange and some miso soup. At dinner, you might enjoy whole-wheat pasta mixed with garbanzo beans, a variety of cooked vegetables such as onions, broccoli, carrots and cauliflower and tomato sauce, served with a whole-grain roll and a side salad of mixed greens.
Eat snacks that contain anti-inflammatory nutrients such as nuts, nonfat yogurt, miso soup and berries.
Other Foods to Consider
Although the evidence isn't clear or concrete, including tart cherry juice as part of your anti-inflammatory arthritis diet may also alleviate some of your symptoms, according to the Arthritis Foundation.
Including garlic in your food may also help. But more research is needed before recommendations specific to arthritis can be made.