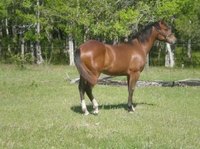 There are many situations in which it is beneficial to ground tie a horse, but to do this you must first train the horse to follow your command. Essentially, ground tying means that the horse stands perfectly still, even though you have dropped the lead rope and walked away. It is similar to the sit-stay command for dogs. Read on to learn how to ground tie a horse.
Things You'll Need
Start by lunging your horse for 10 or 15 minutes in the round pen. This tells him that you're in a training session, and prepares him for work. It also ensures you're in a sandy arena, so he knows that he's not supposed to be grazing.
Remove the lunge line from his halter and replace it with a 6-foot lead rope. You will need to be able to step away from the horse to teach him to ground tie, but you don't want so much play in the rope that you don't have any control.
Tell your horse to "Stand," then step back one foot, holding the lead rope in one hand. If he stands still, reward him with a treat, and immediately stand next to him again. If he follows you, give a firm tug on the lead rope and say "Stand" again.
Repeat Step 3 over and over again until you've gotten your horse to stand still while you step 6 feet away from him, rewarding him with a treat each time he follows your command. If he takes a step toward you, tug on the lead rope again and start over in your attempt to ground tie him.
Drop the lead rope this time and step away from your horse about three feet, giving him the "Stand" command once more. Rejoin him if he stands still and reward him with yet another treat.
Repeat Step 5 until he will stand still while you walk all around him, at which point you've taught your horse to ground tie. Every time he disobeys your command, start over.
Teach the horse the difference between a ground tie and a command to walk forward. Stand next to your horse with the lead rope in hand and walk forward, tugging the line if he doesn't follow. Then stop, drop the lead rope, and walk forward again, giving the "Stand" command.