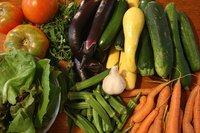 With the price of fresh produce soaring and continued studies on the dangers of pesticides, growth formula and food-borne illnesses, raising your own vegetables is a rewarding alternative to buying from the stores. But chances are you'll find that you harvest a lot more than you can possibly eat at one time. No problem. After reading this article, you'll know how to freeze your fresh garden vegetables to keep in their nutrients and taste so you can enjoy them all year round.
Things You'll Need
Your favorite garden vegetables
Freezer space
A large pot of boiling water
A large bowl of ice water
Freezer bags of various sizes
A timer or clock
Choose your favorite garden vegetables, keeping in mind that some vegetables lend themselves well to freezing while others don't. Watery vegetables such as cucumbers, potatoes and celery turn soft upon freezing and should be canned instead. Green beans, peas and corn, on the other hand, make good candidates for freezing, since they retain their shape and texture even after being frozen and thawed.
Put a large pot of water on the stove to boil. In general, you should use one gallon of water for each pound of vegetables you plan to freeze. While the water is boiling, fill up a large bowl with cold water. The colder the better, so add ice if you have it.
Rinse your vegetables in cold water. This will remove any surface dirt, in addition to any hitchhiking bugs. Prepare the vegetables for cooking as need be. Shuck corn and remove as much of the silk as possible. Take peas from their pods and remove strings from the green beans. Cut the vegetables into smaller pieces if desired.
Blanch the vegetables. This process helps to keep the vegetables' natural flavors in while stopping enzymes from acting on them. Carefully place the vegetables you have prepared into the boiling water. Let the water return to a boil, and then watch the timer. Vegetables differ in how long they must boil. Average blanch times are:3 minutes for green beans, broccoli, celery and sweet peppers2minutes for diced carrots7 minutes for small ears of corn 9-11 minutes for larger ears of corn
Remove the vegetables from the boiling water once the timer goes off and immediately place them into a bowl of ice cold water. This will stop the cooking process.
Leave the vegetables in the water for the same amount of time that you had them boiling. For example, if you are freezing green beans, you blanched them for three minutes. Therefore, you should leave the green beans in the ice water for three minutes.
Allow the vegetables to cool, and then drain them in a colander, making sure to shake as much water off of them as possible.
Put the vegetables into freezer bags or containers. If using bags, remove as much air from them as you can, since this will keep the moisture in, along with the flavor. If using a rigid container, leave some room at the top for expansion. Once you have packed the vegetables, label the containers with the vegetable name and date of packaging. You can now keep these vegetables in the freezer for up to a year or more.