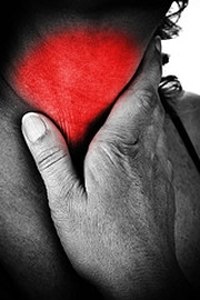 The throat is one of the body parts vulnerable to sports injuries. Blunt force trauma to the area is its most common cause. This forces may come from different origins like direct blow to the throat from a hard kick, compression on the area from a wrestling match, damage from a bad fall, or contact of a ball or any kind of sports equipment on the throat. Symptoms of an injured throat include difficulty in breathing, hoarseness or loss of voice, bleeding, inflammation or deformities around the neck area, and difficulty in swallowing. When this type of injury occurs, immediate treatment must be done with proper handling in order to avoid further damage.
When an injured person brings out a sign that he is injured badly, such as if he holds on to his throat (like he's choking) or after a bad fall, attend to that person right away.
Instruct everyone to clear the area where the injured person is and assign someone to contact 911 as you do initial treatment.
Carefully lay the person in a comfortable position, which is supine and slightly angled to the left.
Gently tilt the head back to open his airway.
Begin rescue breathing if ever the victim stops breathing.
If external bleeding on the neck is present, apply direct pressure on the area to control hemorrhage and to keep it from obstructing the airway.
Check the person's breathing by monitoring breaths per minute.
Apply ice on the sides of the neck to reduce swelling
Make sure to immobilize the injured area, since it might be associated with neck injury
If there is too much loss of blood and the victim show signs of shock, elevating the legs and keep him warm.
If the victim throws up, just roll him over to one side and sweep the vomit out of his mouth, so that there will be no obstructions on the airway passage.
Constantly monitor the persons' status until help arrives.