It's difficult, if not impossible, to get the amount of nutrients you need each day if you don't get a fair share of them at breakfast. Bagels give you a good basis for a healthy breakfast because they provide sufficient calories, carbohydrates, protein and nutrients. But you'll need to choose whole-grain varieties and add toppings that can boost the total fiber.
Breakfast Basics
To determine the calories you should get at breakfast, you can follow recommendations from Columbia University to aim for 350 to 500 calories or do your own calculations based on your daily calorie intake. If you eat three meals and two snacks, divide 75 percent of your calories equally between three meals and put the remaining 25 percent into snacks, suggests Brown University. Including about the same amount of calories and nutrients in each meal, including breakfast, helps maintain steady energy throughout the day. Even a light breakfast should provide carbohydrates, protein, fiber, a serving of fruits or vegetables, and a small amount of fat.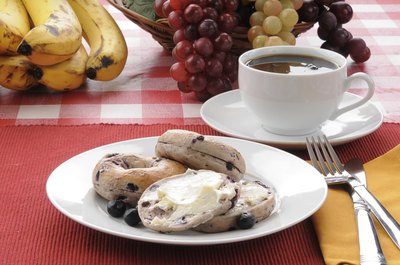 Watch Calories and Carbs
Different varieties of large bagels contain 328 to 364 calories, according to the U.S. Department of Agriculture. Whole-wheat bagels have the fewest calories, while egg bagels are at the high end. Since toppings add another 100 to 200 calories, choose bagels with the fewest calories, buy small bagels or eat half of a large bagel to stay within your calorie goals. One-half to one whole bagel provides the carbs you need for breakfast, according to Columbia University. As a general guideline, plain enriched bagels, oat-bran bagels and wheat bagels have 64 to 70 grams of total carbs in one large bagel.
Whole Grains for Fiber
The daily requirement for fiber -- 25 grams for women and 38 grams for men -- works out to 6 grams at breakfast for women and 10 grams for men if you eat three meals and two snacks. Unless you find a fiber-enriched bagel, the only way to get the maximum amount of fiber is by choosing a whole-grain bagel. Whole-wheat and oat-bran bagels have 5 grams of fiber, compared to 3 grams in a plain bagel made with processed flour. You can boost fiber and gain a serving of fruits by adding toppings such as berries, bananas and apples.
Plenty of Protein
Women should aim for 12 grams of protein at breakfast and men need 14 grams, based on dividing 75 percent of the recommended intake for protein between three meals. If you eat a large bagel, you'll meet the goal because whole-wheat and plain bagels both have 13 grams of protein. If you go with a smaller serving, you can use toppings to make up for getting less protein in your bagel. Butter is the worst choice, with barely a trace of protein. Two tablespoons of cream cheese adds 2 grams of protein, while one egg, 1 ounce of cheddar cheese or 2 tablespoons of peanut butter provide about 6 grams each.