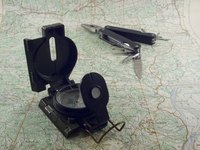 To orient yourself using a compass and a map, you will need to know how a map works and how a compass works, and then how they work together. You will also have to know where you are now, where you are going and where those two locations are on a map. Even with a compass and a map, anyone can get lost. Avoid some very common mistakes by following a few simple guidelines and checking your work twice before heading off along the designated path.
Things You'll Need
Standard flat compass with rotating compass housing and directional lines in both the body and housing
Map with compass rose (also known as windrose) indicating north
Identify where you are and locate the corresponding position on the map. Make sure the landmark you are standing at is the same one you are looking at on the map. Also make sure the final destination is identifiable on sight and indicated on the map.
Place the compass body on the map. Align the edge of the compass housing along the desired path. See that your current position and the final destination align along the same edge of the compass, and that the directional arrow on the body of the compass flows from the start point to the destination.
Calibrate the north indicator on the compass. To accomplish this, hold the map and compass in place and turn the compass housing until the north indicator (usually the red end of the north indicator) lines up with north on the map.
Rotate the map and compass together until the north compass needle aligns with the north indicator in the housing. North on your map is now pointing to north in the real world.
Face your destination. To do this, remove the compass from the map. Do not leave yet. Hold the compass level with the ground and in front of your body, making sure the directional arrow on the compass body is facing away from you. Make sure no metal (such as a belt buckle) interferes with the magnetic compass needle. Rotate your whole body with the compass until the north compass needle aligns with the north indicator in the compass housing.
You are now facing your destination. Seek out a landmark in the distance, such as a specific tree or rock that coincides with the path of the directional arrow. Go there and keep walking straight. You are on your way.