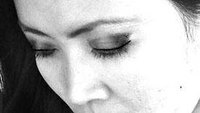 False eyelashes are an easy way to add oomph and glamour to your look. Read on to learn how you can enhance them with mascara.
Things You'll Need
Fake strip eyelashes
Small scissors
Clear-drying lash glue
Toothpick
Wall mirror
Eyelash curler
Waterproof black mascara
Tweezers
Black liquid eyeliner
Find fake eyelashes that blend with yours and suit the occasion. For example, say you want to look fabulous but natural. Choose lashes that come in strip form, instead of in individual clusters, for easier mascara application. The spaces between the lashes should be even, as you would expect from real lashes, and not erratic, like the more artistic lashes you might use for play or dress-up.
Trim the lashes. Hold the fake eyelashes against your own so you can measure how far the falsies extend past your lash line and towards the outer corner of your eye. Use small trimming scissors to cut off the excess false lashes on the strip. Don't trim with the lashes on or near your eyes. You can maintain the length of the lashes, or shorten them if they are noticeably fake or considerably longer than your natural lashes.
Apply the lashes. Start with dry, clean eyelashes. Curl your own lashes to help them blend better with your false ones. Apply your favorite waterproof black mascara to thicken your lashes before you attach the falsies. You should put a bit on your bottom lashes, too, to balance your.
Practice applying the falsies so they look as if they are part of your own lash line. You'll need a tube of lash glue that turns clear upon drying. On a makeup palette or a piece of tissue, squeeze out some of the glue. Dip a toothpick into the adhesive and spread liberally onto the fake lash line on the side that will cover your natural lashes. Wait a few seconds for the glue to get tacky so that it adheres readily. Stare straight ahead into your mirror, with your brows raised to allow easy access. Follow the curve of your own lash line when you push the fake lashes. Do not push them onto your eyelid, but into your actual lash line. It may take a few tries, but this is a task that quickly becomes second nature.
After two or three minutes, the lash glue should have dried. Adjust the fake lashes with the blunt end of your tweezers so that they mix with your naturals. Look straight ahead into your mirror and apply more mascara to simultaneously coat your real top lashes and the fakes. Don't snag the falsies with your mascara wand. Do one eye at a time. Use your thumb and index finger to smush your real and fake lashes together while the mascara is still wet.
Make sure the lash glue is dry and clear. Use your black liquid eyeliner to line over your new fake lash line and slightly above (or even higher, if you prefer a more pronounced look). With this type of liner, you can disguise your fake lash line. Keep the line that you draw smooth and wing it slightly up at the end to give your eyes a more youthful, uplifted appearance. Step back and admire your handiwork in the mirror. Voíla, you're all done!