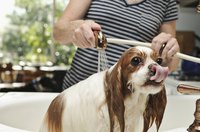 While canines are normally a highly intelligent species, the occasional individual might make you wonder. Many dogs learn a miserable lesson from a single skunk surprise, making the first rendezvous their last. Other pooches, not so much. It seems that some just never learn, belligerently confronting every Pepe LePew they encounter. While pet supply retailers sell commercial skunk remedies, skunks are nocturnal critters who typically aren't spraying hapless dogs during business hours -- and you've got to act fast. A brilliant chemist, Paul Krebaum, developed a skunk spray remedy using everyday household materials.
Things You'll Need
Old clothing
Mentholated topical ointment
Latex or rubber gloves
Sterile ocular lubricant eye ointment
Cotton balls
Paper towels
Dog comb or brush
Plastic pitcher
3-percent hydrogen peroxide
Baking soda
Liquid degreasing dish soap
Old sponge or washcloth
Ocular saline solution
Dog shampoo
Clean, soft bath towel
Dog treats
Confine your skunky dog to the bathroom right away to keep the odor from wafting around and contaminating your entire home. If he's outside and weather permits a bath, keep him out there. Because skunk spray is more difficult to remove once it has dried, take action as soon as you can.
Pull on old clothes that are dispensable before handling your dog. Skunk spray is an oil that is tough to remove from fabrics. Smear a dab of mentholated topical ointment across your nostrils to counteract much of the foul odor. Wear latex or rubber gloves while handling your poor pooch to avoid getting spray on your hands and the possibility of skin irritation.
Apply a strip of sterile ocular lubricant eye ointment to each of your dog's eyes to sooth them and protect them from water and skunk spray during his bath. Gently place a cotton ball in each of his ears to protect the eardrums from skunk spray.
Blot the dog's coat with paper towels to soak up excess skunk spray. Take care not to spread the revolting stuff to unaffected areas of the pet's body. Comb or brush the fur in the sprayed areas to remove loose hairs. This will help to lessen the noxious odor somewhat.
Dump 1 quart of 3 percent hydrogen peroxide into an open pitcher. Add 1/4 cup baking soda, stirring to dissolve completely. Stir in 1 teaspoon degreasing dish soap. Get ready to apply the solution immediately. Organic compounds known as thiols cause the stink in skunk brew. Hydrogen peroxide oxidizes the thiols, turning them into odorless, water-soluble sulphates and neutralizing the foul stench. The baking soda makes the solution slightly alkaline, enabling the peroxide to do its job. The degreasing soap breaks down the sticky oil base in the spray. Don't put a lid on the container, as the oxygen the solution gives off will build up and explode.
Apply a small amount of the solution to an old sponge or washcloth, and carefully massage it into the hair on your pooch's face. Avoid getting any of it into his eyes, mouth and nose. Pour the solution slowly onto all affected areas of the dog's body. Use the sponge to massage it into his coat and skin. Don't allow the oily skunk spray to spread to unaffected areas. Allow it to sit for five to 10 minutes.
Rinse the solution out of the dog's coat with clean, warm water. Bathe him as many times as necessary to get rid of the stink. Sometimes multiple applications are necessary. Follow up with a bath using your regular dog shampoo.
Dry the poor dog thoroughly with a clean, soft bath towel. Give him a few doggie treats for being such a good sport.
Dilute any leftover solution with several times its volume of warm water and wash it down the drain. Don't try to save and store the excess.