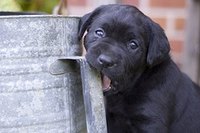 Many pet owners seem to forget what is involved with caring for a pet when they purchase their puppy. I must admit I wasn't thinking about anything except how cute our golden retrievers were when we saw a photo of them. There are several methods you can use in order to ease your puppy's pain through the teething period.
Things You'll Need
Crate your puppy. Many homeowners have learned the hard way that puppies can not be left unattended. During the teething stage they will chew on everything from your shoes to chair legs. It is best to crate them when you are out of the house. There are different colors and sizes for you to choose from. Crates come in a variety of prices for all income levels. If you don't want to put them in a crate you can also purchase an exercise pen which will allow them to move around a little.
Purchase teething toys. If you are home with your puppy and you notice they are beginning to chew on your shoes or furniture then you can buy teething toys. Your puppy will go through a lot of these toys so it's best if you purchase strong, durable toys. As much as your puppy may love plush toys, these are not good teething toys for puppies.
Try bitter sprays. Another teething option for your puppy is purchasing bitter sprays. Some sprays taste bad which prevents your puppy from chewing wherever it's sprayed. These sprays are usually flavored with bitter apple and are affordable. Some dogs may like this taste so you will need to experiment with a few. I recommend reading the labels, as some of these sprays can stain whatever you spray it on.