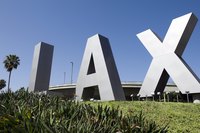 Getting to Los Angeles International Airport (LAX) can be a chore with the city's constant traffic. The FlyAway coach bus service makes it a lot easier. This public transportation option offers non-stop bus service to the airport from various locations in the Los Angeles area: Union Station in downtown, the Expo/La Brea Metro station, Westwood in the UCLA area and Van Nuys, a neighborhood in the San Fernando Valley. The comfortable, air-conditioned buses are budget-friendly, operate seven days a week and make the trip to LAX stress-free.
Choose one of the four FlyAway stations or stops to depart from. At Union Station, the FlyAway leaves from Bus Stop 9 in the Transit Plaza area. The Expo/La Brea stop is located on the south side of the Metro Expo Light Rail Line platform. The FlyAway has its own station in Van Nuys, located at the corner of Woodley and Saticoy. The Westwood FlyAway stop is right next to UCLA's south campus, in front of UCLA Parking Structure 32. All locations are easily accessible via Los Angeles Metro bus and train service.
Check the FlyAway schedule to determine which bus you need to take to get to LAX in time for your flight. FlyAway buses from Union Station and Van Nuys run 24 hours a day, seven days a week in 15-, 20-, 30-minute and one hour intervals, depending on the time of day. At the Expo/La Brea and Westwood stops, FlyAway buses come hourly from early morning to late at night, but do not operate overnight.
Arrive at the FlyAway bus station 20 to 30 minutes prior to your bus departure time. If you are driving yourself, Union Station has a daily parking garage under the transit plaza, where you can park for up to 30 days. Westwood offers limited parking spaces for up to 10 days inside UCLA Parking Structure 32. Van Nuys has a secured parking structure with a daily rate for up to 30 days. The Expo/La Brea stop has no long- or short-term parking options.
Purchase your ticket for the FlyAway at a marked ticket counter or electronic kiosk at the station. Choose between a one-way or round-trip ticket. You must pay with a credit card; cash is not accepted. You can also purchase your FlyAway ticket online, ahead of time. Once you have your ticket, line up where indicated to wait for your bus.
Board the bus, giving the driver your ticket. If you have luggage, a porter will ask you what airline you are flying before you board and will put your luggage in the appropriate luggage hold. Travel time to LAX from Union Station is about 25 minutes, about 35 to 60 minutes from Van Nuys, 25 to 45 minutes from Westwood and about 20 to 30 minutes from Expo/La Brea.