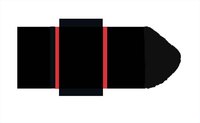 Having a purse for every outfit is easy if you can make your own. This clutch purse is easy enough for tweens to make, and it makes a great gift. It can be made from recycled materials like cereal boxes and fabric from old clothes, so it is low-cost and green, too!
Things You'll Need
Thin cardboard (a cereal box is perfect)
Thick fabric
Velcro
Hot glue
Trim
Pencil
Ruler
Scissors
Lay the cardboard out and draw a long rectangle on it that has a triangle at the end. To get an idea of the shape, take a look at the purse template.

Cut a piece of fabric that is a little bigger than the cardboard shape.
Glue the cardboard to the fabric. Wrap the edges of the fabric around to the other side and glue them down.
Cut another piece of fabric that is the same shape as your cardboard, but a little smaller. Glue it to the inside of the cardboard over the edges of the fabric.
Fold the cardboard to make a purse. Look at the template again. The red lines are where you should fold the cardboard.
Glue the flaps to the front of the purse to make a little box.
Glue squares of Velcro on the underside of the triangle flap and where it meets on the purse.
Add trim to your purse, and you're done!