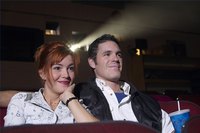 How to Eat Healthy at the Movie Theater. Just because you have plans to go to the movie theater doesn't mean that you have to ruin your diet. You can make healthy food choices at the movie theater if you know what to choose.
Opt for a healthier beverage. If you want to have a drink while you watch a movie, choose a bottle of water or juice. A regular soft drink at a movie theater can contain empty hundreds of calories and sugar per cup, depending on the size you order. Either bring a bottle of water from home or purchase a bottle of water or juice at the theater. If the theater doesn't carry either, choose a diet soft drink or iced tea.
Go for a small, unbuttered popcorn. Instead of asking for extra melted butter on your popcorn, request no butter at all. Doing this will save you many calories and fat grams. Also, choose a small or child's size popcorn.
Choose healthier candy options. Choose licorice, gummy bears or jelly beans instead of chocolate candy bars. The colorful candies tend to have lower calorie counts and fat grams than the chocolate options. If you do order candy, limit yourself to eating half the package.
Bring healthy snacks from home. Choose snacks that won't cause a mess in the theater and that you can transport easily. Good snack options from home include granola, grapes, dry cereal, nuts, air-popped popcorn or low-fat string cheese.